5 Weeks of fall festivities including Johnny Appleseed Days, beer, cider, and spirit tastings, spectacularly spooky haunted trails and more. Come for the fall colors stay for the FUN!
Ok, real talk- there's no better place to experience the colorful season than on the shores of Lake Pepin in Lake City. Don't believe us? Well come experience us in all our red, gold, and orange glory with a month of weekend celebrations throughout October.
Be sure to follow Fall Fest on Facebook and keep checking our calendar of events for announcements!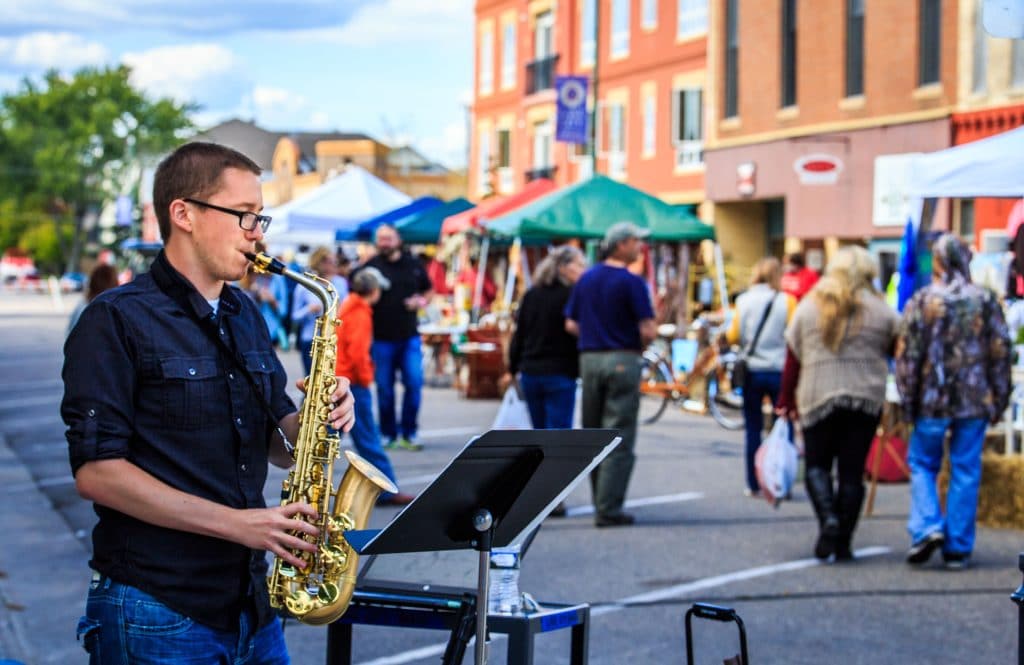 September 30th and October 1st, (Throughout Downtown)

Lake City's premier autumn event, Johnny Appleseed Days, celebrates the apple harvest and our region's wonderful creative community! 
*NEW IN 2023: BEER AND CIDER FEST (see listing below)*
Enjoy 2 days of live music, dozens of art, craft, and upcycle vendors, food trucks, beverages, petting zoo, pie eating contest, and many more family friendly activities at this sprawling
downtown block party!
Stay tuned for the full schedule of Johnny Appleseed events and music line up.
Interested in being a vendor at Johnny Appleseed Days? Click here for an application.
Johnny Appleseed Beer and Cider Fest
September 30th 1-4pm (Downtown)
Celebrate the autumn harvest with us at our inaugural Beer and Cider Fest!
Dozens of ciders and breweries will be on hand at Johnny Appleseed Days to sample their delicious elixirs.
Enjoy a full line up of incredible live music, scores of arts and craft vendors, numerous food trucks, and the most beautiful vistas in southern Minnesota, all whilst sipping on a variety of the regions best brews and ciders. More details coming soon!
October 7th 11am-2pm, (Patton Park)
Touch A Truck is back!
Join us for loads of activities for kids of all ages!
Ambulances, firetrucks, busses, oh my! Remember when the big rigs conjured up all sorts of big feelings? Relive those with your family in Lake City, when kids (of all ages) can experience what its like to sit in the cab of a big truck.
October 20th 6:30-9pm, (
Port 104
)
– Enjoy hors d'oeuvres from many of our wonderful local south shore restaurants while enjoying some live music!
– Sip on some of the best wine and spirits available in the area. 
– Participate in a Silent Auction, Raffle, and Wall of Spirits, supporting Rotary's Student Exchange Program!
October 28th 6-9pm (Hok Si La)
Have you watched all the Friday the 13th movies? Do the woods at night kind of freak you out, but you kinda like it? Well, the ghosts of an old, broken down, and haunted carnival and circus have been discovered on the outskirts of Lake City! Come join us for a tour, if you dare. Don't miss this one day haunted trail in Lake City's beautifully spooktacular Hok Si La Park from 6-9pm!
*Not sure if it's quite right for your littlest ones? Don't worry, come down to  for some milder daylight fun on 10/29 from 12-3. 
September 24th – November 3 (Patton Park and Ohuta Beach Park)
Bring your kids (or your inner child) to Patton Park all month long to play homemade yard games, take selfies with scarecrows, and experience one of Lake City's most beautiful leafy parks.
Stop down on opening day (9/24 at 11am), for a kiddie parade and Jr. Royalty Coronation to kick off the whole month of events! 
Witches Bunco: October 15th 1-4pm, (Port 104)
Do you feel lucky? Well do you?
Put on your pointy hap and stop down to Port 104 and take part in a most bewitching game of chance… Bunco!
Here comes the feel good part? You support local causes by playing!
Fall Fest Fundraiser Lunch: October 22nd 11am-1pm (VFW)
Ok, by now you're in love with fall and everything Fall Fest and you want to support future efforts to bring more new and exciting programing to Lake City year after year. So, join us for this fundraiser at our local VFW, play Euchre and have fun while assisting this great community event!

Get more fun fall suggestions for the Lake City area here!