Lake City is an outdoor enthusiast's paradise
We offer unmatched access to the lake, championship golf and miles of hiking and biking trails. Known as the Birthplace of Waterskiing, our lake provides world class sailing opportunities, endless water sport activities, and the best fishing in Southeastern Minnesota with over 85 different species. Come find out why we were chosen to host the 2021 World Walleye Championship.
Lake City's River Walk is a miles long paved cycling
Read More »
Our unique location on the famous Mississippi River Flyway, designated
Read More »
Have you ever imagined what it would be like to
Read More »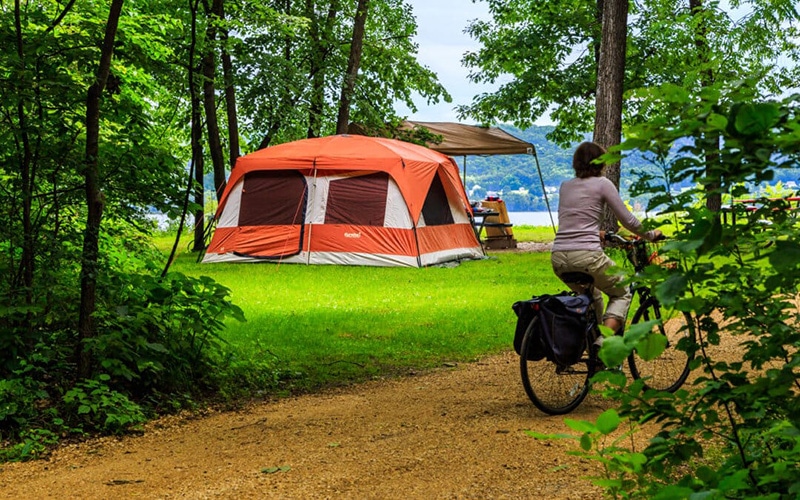 Hok-Si-La Municipal Park and Campground is open year-round for day use.One Mile
Read More »
Hunters can find everything they are looking for in the surrounding Hiawatha & Mississippi River Valleys. Hunting near Lake City offers some of the most comfortable accommodations in a wilderness setting without having to travel or invest into a high end guided hunt. Sportsman will find an open season on big game, small game, waterfowl, or trapping nine of twelve months each year.
Our most popular seasons are the Whitetail Deer, Turkey and Duck/Goose opportunities. The excitement starts with spring turkeys in which tags are provided on a draw basis. The high concentration of gobblers in this region has put Lake City in high demand during the draw process. However, should you get one of these coveted tags you will be happy to know that with the abundance of birds success rates are very high. Fall turkey hunts are also available through draw and this season runs throughout the month of October.
Fall hunts start the beginning of September with an Early Canada Goose season and follow shortly with Small Game & Archery the middle of the month. Autumn in the bluff county is a sportsman's dream with Waterfowl, Pheasant and many types of trapping seasons opening in October. The latter portion of October offers world class whitetail hunting as the deer begin their pre rut process.
The first weekend in November marks the start of our two firearm seasons for whitetail deer with the second season taking place during the third week and the muzzleloader season running through the second week of December. These hunts are so popular for families and friends that many of our hotel accommodations are rented out years in advance by the same friendly faces.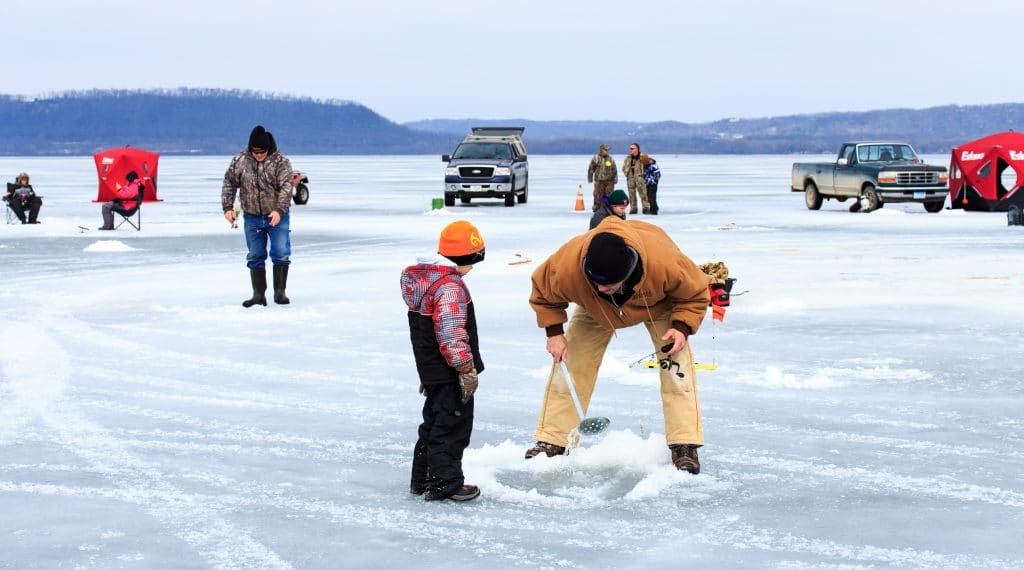 ABOUT FISHING THE LAKE PEPIN AREA
Come fish Lake Pepin and find out why it was chosen for the 2021 World Walleye Championship. Watch the nationally televised tournament here!
The out-wash of Wisconsin's Chippewa River basin into the Great Mississippi River forms 20 mile-long Lake Pepin. Over 85 species of game fish can be angled year round in these boundary waters. Lake City has nearly 7 miles of shoreline along Lake Pepin offering many opportunities for shore fishing as well as 2 designated trout streams, Gilbert and Miller Creeks. From boat or shore – whether you like bobber fishing, jigging, trolling, or casting, trophy-size lunkers are possible rewards.
Download Lake City's Lake Pepin Area Fishing Brochure or have one mailed to you or click here to have one mailed to you.
Stroll, hike and bike on trails along the river and in the surrounding forests. Most are perfect for any age or fitness level, with some more challenging. Popular options are Hok-Si-La Park, Frontenac State Park and our famous River Walk.
Enjoy Frontenac State Park
Snowshoeing and Cross Country Skiing
Lake City is the perfect winter destination for outdoor lovers. Ski and snowshoe through the many natural parks in the area for fantastic views and perfect moments of comraderie or reflection.
Strap in and snowshoe Lake City
Cross country ski at Hok Si La Park
Snowmobiling and Ice Boating
Do you feel the need for speed? Lake City is connected to miles and miles of snowmobiling trails, and ice boating on Lake Pepin draws racers from around the globe.
Explore the networks of snowmobiling trails around Lake City
With the right conditions, Ice Boating on Lake Pepin is world-class
Water Skiing and Kiteboarding
Come water ski in the birthplace of the sport. Ralph Samuelson invented water skiing in Lake City in 1922, in 2022, we celebrate 100 years with other communities across the country. If you need a bigger adrenaline rush, give kiteboarding a try!