No matter the time of year, find fun here!
Spring, Summer, Fall and Winter adventures and activities await!
10 Reasons to Visit Lake City in Fall
Lake City, Minnesota is a dream destination in Autumn. Brimming with a full spectrum of colors and activities, here's 10 of our favorite things to do in the area in fall.
FALL DRIVES
From Lake City you can find days and days worth of beautiful drives, perfect for leaf peeping. Whether you enjoy twisting your way through bluffs on county roads or hugging Lake Pepin on Highway 61, you can't beat Lake City for amazing colors and vistas. 
PEPIN HEIGHTS ORCHARD
The Pepin Heights Store in Lake City, MN has all your fall essentials.  Find tons of local gifts, crafts and products, delicious pies and baked goods, apple cider and of course – locally grown apples!  
FALL FEST
Ok, real talk- there's no better place to experience the colorful season than on the shores of Lake Pepin in Lake City. Don't believe us, well come experience us in all our red, gold, and orange glory with a month of family friendly weekend celebrations throughout October.
JOHNNY APPLESEED DAYS
Lake City's premier autumn event takes place September 30 – October 1, 2023. This 2 day block party and hootenanny is family friendly and super fun. Celebrate the apple harvest and our creative community. Live music, a beer and cider fest, food trucks, arts, crafts, and repurposed item vendors, and even a hilarious, old fashioned pie eating contest!
DOE DAY
Lake City retail businesses celebrate the opening weekend of deer hunting season with mighty sales and fun festivities. While the Buck's away, the Doe will play. You won't want to miss Doe Day in 2023.
FALL HIKES
There's no better time or place for nature lovers than autumn in Lake City. Explore miles of trails at Frontenac State Park or Hok Si La and take in the breathtaking colors and gorgeous Lake Pepin views.
HAUNTED HOK SI LA
Have you watched all the Friday the 13th movies? Do the woods at night kind of freak you out, but you kinda like it? Well, don't miss this one day haunted trail event in the beautifully spooktacular Hok Si La Park. Not sure if it's quite right for your littlest ones, don't worry, come down for some milder daylight fun for the kiddos. 
READS LANDING
Take time at the Wabasha Co Historical Museum or sip house-made brews at the Brewing Company. This little village just south of Lake City on Highway 61 is a short, delightful drive from Lake City.
HIT THE LINKS
With five courses (including the world-class Jewel Golf Club) within 15 minutes of downtown, why not go all in with a long weekend trip to Lake City. One of the premier golf destinations in the Midwest, Lake City needs to be on every golfer's bucket list.
GET ON THE WATER
Whether you love to land lunkers or prefer a relaxing cruise, Lake City is famous, for well… its lake! Lake Pepin is the widest spot on the Mississippi and surrounded by towering cliffs that pop with brilliant colors in autumn.
SNOWMOBILING
Tour our bluffs and valleys on hundreds of miles of maintained trails. Find maps at visitor kiosks or city hotels or visit the DNR or Minnesota United Snowmobiler's Association websites.
SKIING AND SNOWBOARDING
Superb Midwestern snow sports are just a short drive away at Coffee Mill or Welch Village full-service ski areas. Equipment rentals and seasonal and daily passes are available.
CROSS COUNTRY SKIING
Groomed trails at Hok Si La Park and Frontenac State Park attract skiers of all ages and skill levels. Our bluffs, valleys and forests provide stunning scenery and protection from winter winds.
ICE SKATING
Skate under the stars (or any time) or polish up your slap shot at Underwood Park's leisure and hockey rinks and warming house.
ICE FISHING
The best of this enduring winter pastime is right on our front porch. The locals target blue gills, bass and lunker walleye and pike. There's easy access for those who need to unload their fish house. Check our outdoors page for fishing contests.
ICE SAILING
Harness winter winds! Host to several North American regattas, Lake Pepin's wide expanse provides outstanding conditions for racing or enjoying a speedy weekend on the ice. Contact the Lake Pepin Ice Yacht Club for more information.
EAGLE VIEWING
From November through April, bald eagles migrate along the Mississippi River, and about 50 nesting pairs remain in the Lake Pepin area year-round. See them perch, soar and fish. There are many spots on the Great River Road between Lake City and Wabasha that offer thrilling, close-up viewing opportunities.
FAT TIRE BIKING
Biking is popular year round in the Lake City area. You can ride the Tour de Pepin in the spring, but for aficionados of Fat Tire cycling, Lake City not only holds its Fired Up! tour in February, but also is a great place to find plenty of spots to ride your trusty stead on snowy trails or frozen water.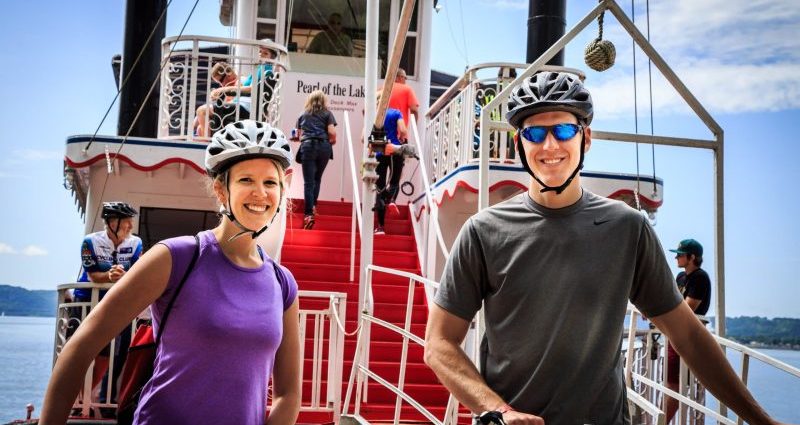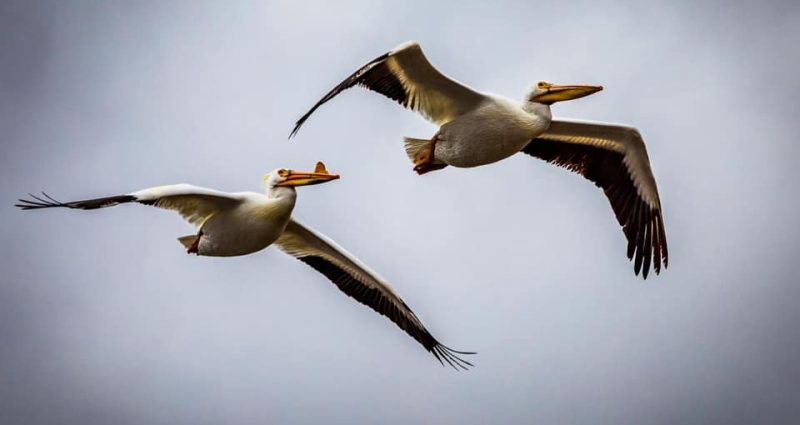 TOUR DE PEPIN
Held the first Saturday in June, Tour de Pepin offers bicyclists from amateur to expert an opportunity to experience Lake Pepin from the saddle. The Lake City Chamber of Commerce hosts this supported ride, which features a dozen manned rest areas with food and water and your choice of routes.
SPRING BIRD MIGRATION
According to Audubon, Lake Pepin is described as the "best bird habitat in the State of Minnesota, especially for migrant birds." In the spring and fall, nature puts on one of its most magnificent shows right here in Lake City. Visit our bird-watching page for more info.
SPRING FISHING
Lake City is famous for world-class angling on Lake Pepin, in fact Lake City was selected to host the 2021 World Walleye Championship. We also have numerous trout streams close by that offer browns, rainbows, and brookies!
BEAUTIFUL PARKS
Get outdoors in one of Lake City's beautiful city parks. From lakeshore swimming and strolling to baseball fields and playgrounds, stop and smell the spring flowers in Lake City's parks. 
STAY LAKESIDE
There is an abundance of beautiful rooms, condos, and rental homes available with gorgeous Lake Pepin views in Lake City. Spring is the perfect time to treat yourself to a dream lakeside getaway with your family, your sweetie, or yourself!
GIRL'S DAY OUT
Calling all shoppers, fun havers, and Spring lovers! Shop, dine, and more in downtown Lake City during Girls Day Out! Experience a relaxing day of amazing sales, drawings, shopping, dining and taking in all the beautiful sights of Lake Pepin.
HIGH TEA at the CHICKADEE
Experience afternoon tea when the Chickadee Cottage Cafe opens again for the season in spring. Reservations are a must for this unique 5-course experience that is perfect for celebrations, showers, mother/daughter outings or girls' weekends!
100 MILE GARAGE SALE
Lake City is the epicenter for the incomparable 100 Mile Garage Sale each year in May. Find treasures galore along the Great River Road, while stopping for dining and drinks along the way!
GOLF LAKE CITY
You've waited all winter to hit the links again, why not go all in with a weekend trip to Lake City- one of the premier golf destinations in the Midwest? With 5 courses (including the world-class Jewel Golf Club) within 15 minutes of downtown, Lake City needs to be on every golfer's bucket list.
WATER SKI DAYS
Held the last full weekend in June, Water Ski Days is the quintessential summer party. In 2023 Lake City celebrates 51 years of this fun festival and 101 years as the 'Birthplace of Water Skiing' with concerts, classic cars, parades, carnival rides, and of course, water ski show performances.
BOOK A SAIL
Feel the wind in your hair on beautiful Lake Pepin when you schedule a charter sail with Lake City Sailing. This is your opportunity to see what all the buzz is about. Who knows, it may lead to the next chapter of your life!
CAMP WITH THE FAMILY
Wake up to the sounds of gentle waves lapping and birds singing in the Lake City area. Between Frontenac State Park, Hok Si La, and Lake Pepin Camping, you're sure to find the right fit for your RV. trailer, or tent!
FLOAT-A-PALOOZA
You know that Lake City boasts some of the best beaches anywhere on the Mississippi, well this is one of the biggest beach parties on the river! Bring your lily pad or other floatation device and come hang with us. 100's of folks gather in Lake City in mid-August to celebrate one of the greatest summer pastimes ever… Floating! This is a perfect event for families, with kid's entertainment, food trucks, and fun, fun, fun!
LAND A LUNKER
Experience Lake City, home of the 2021 Walleye World Championship. Discover phenomenal shore-fishing and multiple public launches on majestic Lake Pepin for world-class freshwater angling. Guide services and boat rentals are available.
BIRD WATCHING
While the spring and fall migrations bring a multitude of avian action to the area, and watching the eagles patrol the ice is an epic winter sight, summer is also a fantastic time to bring your binoculars to Lake City. The bluffs and shores are alive with the sights and sounds of our fine feathered friends!
Y-KNOT TRI
Enjoy this family oriented-triathlon featuring a 2.5-mile kayaking section on Lake Pepin, a 14-mile bike section north of Lake City looping thought old and new Frontenac, and closes with a 5K run south on the river walk. Set for August 13, 2022